As the name suggests a "grease trap" captures all the grease flowing down a restaurant drain line before it goes into the council's sewer mains.
Without such devices the congealed grease and fat would choke up sewers, cause major blockages and cause havoc especially in high density shopping districts.
How Do They Work?
Simple really. The grease trap is "sized in water volume" by a hydraulics consultant based on how many wash up sinks etc are in the restaurant and what type of restaurant it is. For example, high volume grease producers are chicken-based retailers (i.e.: Red Rooster), Gelato ice cream producers, Indian restaurants (high cream content) and others. They range from holding 500 litres to over 50000 litres in large shopping centres.
The grease trap is designed to have enough cold water in the trap to ensure that when high volumes of HOT water flows into it from the restaurant, there is sufficient cold water to cool the HOT water and cause the fat to separate and float to the top of the trap. The cooling water travels under several baffles before it exits lower down in the grease trap chamber into the council sewer free of grease and fat.
The restaurant's pipework to the grease trap is called "Trade Waste" drainage. Meaning it is made from special materials such as High-Density Poly Ethylene (HDPE), lagged copper (rare these days) or similar heat retentive materials. The idea is that the heat retentive pipework keeps the water HOT so the grease does not congeal until it enters the bulk cold water trap.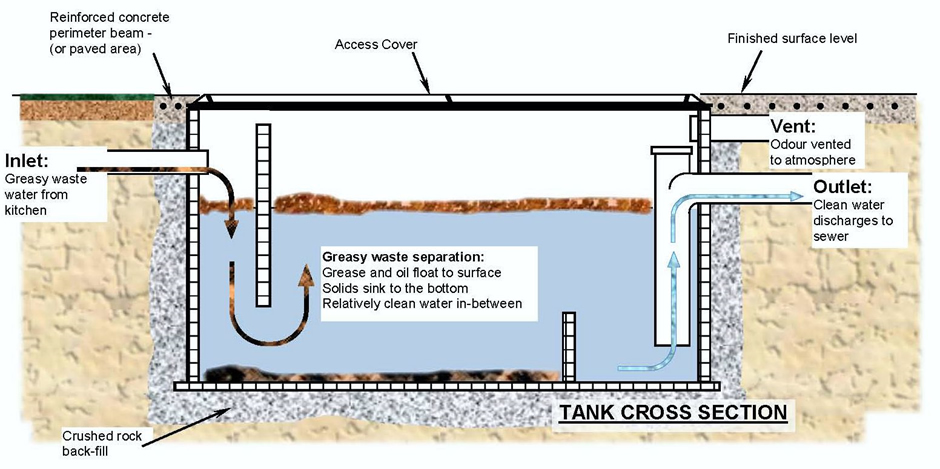 The waste grease is sucked out about 4 times a year. A very smelly job.
Here's a photo of analmost completed install of a 2000L concrete underground grease trap at Eagle Vale Shopping Centre NSW. Servicing a Domino's Pizza store which also had an underground pump out due to council sewer being too shallow. For more information on Connected PlumbGas's commerical plumbing and gasfitting services visit our Commercial page.